Ok.
So it wasn't Saturday night, it was Friday night, and I did have somebody.
I was with my daughter, Zoé.
We sat in front of the TV around 5pm last night, and didn't move for approximately 5 hours.
We watched one episode of Toddlers in Tiaras…

image from here
Two episodes of Teen Mom…

image from here
Thursday night's taped off episode of Grey's Anatomy…

image from here
And one episode of Teen Mom 2!

image from here
After several hours of remaining motionless and riveted to the boob tube, these were my conclusions:
1.  When a grown woman says that her 15 month old baby will be DEVASTATED if she doesn't win the Grand Supreme title at the pageant, I'm thinking the show is absolutely staged.
Because, really? Really???
That 15 month old could easily be distracted from her devastation, by like…say…a paper bag or…ummm…
a milk engorged boob!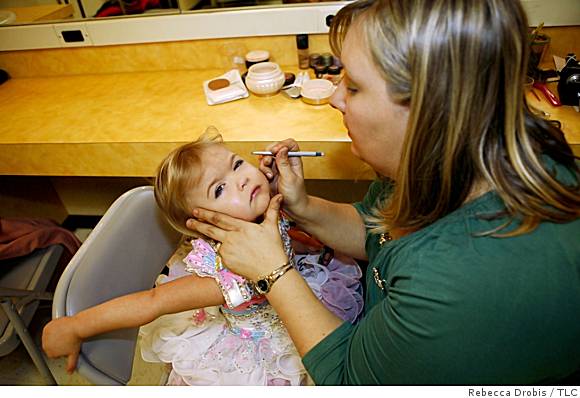 image from here
2.  When that same woman goes around singing to her 15 month old baby a made up song consisting of the words, "Miss Ameeeeerica! Miss Uniiiiiiverse!" repeated over and over again, I'm thinking the woman needs to be taken away in a pretty white jacket that ties in the back.
Maybe throw a sash and a crown on over the straight jacket and she won't even notice where she's being taken.


image from here
3.  Watching shows in which teenagers are raising babies is a great time to say to your 11 year old daughter:
      See sweetie, that's what you have to do to get famous!
      Whatever you do, don't hit the teen dad when the cameras are rolling.
      If the teen dad is gonna be a deadbeat, break it off quick while you're still on the show.Other guys will want the spotlight. Baby is gonna need a daddy!

    image from here
But mostly, throughout all the teen mother drama, I kept thinking…
4.  I bet this guy could spank me really good…

image from here
However, I knew it was time to stop watching the educational TV shows and tend to the other members of my family when Jackson, the 13 year old, came up from the computer room where he had been doing homework, and said, "I'm googling "ancient egyptian physical elements," but it keeps bringing up pictures of ladies with big sagging boobs…I don't want to see sagging boobs!"
Of course he doesn't.
Fake, perky ones are far more exciting.