The practice I speak of is that of yoga.
Hot yoga, to be more precise.
I've been dabbling on and off for about a year now.
I started doing a "30 Day Challenge" last May, and on day 3, I came down with a horrible stomach flu, and I blamed it on all the germs creeping around in that hot, sweaty classroom.
I'm back at it.
And quite frankly, I find it difficult as hell.
Not the movements themselves.
I can move.
I'm very flexible you're welcome Wayne
And I have a lot of stamina…they don't call me the Little Engine that Could for nothing…I made that up, nobody calls me that
But I have the attention span of a two-year-old.
I cannot sit still.
When I'm supposed to be concentrating on slowing down my body and my mind, I'm wiggling my toes.
I'm fidgeting.
I'm fixing my head band.
I'm twirling my rings.
And I'm standing in front of a mirrored wall.
A big giant mirror!
I'm all about looking at myself.
But put me in this room where I'm SUPPOSED to be looking at myself in order to ensure proper posture, and I'm checking out buddy with the spandex tights or that fat lady over there.
Throughout all of this, the voices in my head are louder than ever.
Oh, I try to quieten them, to still them.
I'm like, "Shut up. Just shut the fuck up."
And for about 3 seconds, I'm good.
My mind is like a blank slate…
And then it starts up louder than before.

image from here
We begin by placing our hands in a prayer position.
This is the perfect opportunity for me to just breathe.

image from here
But I'm all like, "I need a manicure."
Of course this is followed by, "Oh, and a pedicure…yes, a mani-pedi!"
As I move through each posture, my thoughts range from "That girl's top is super cute!" to "It looks like I have a mushroom on top of my head when I wear my hair like this."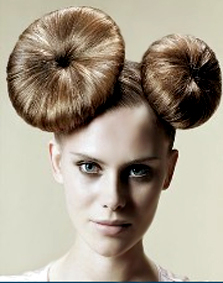 image from here
My friend, Jen, is beside me, executing perfect poses, and as I admire her in the mirror, I then get to thinking of things I need to tell her.
Now!
Like right fucken now.
So while everyone is quiet and focussing on their postures, I'm looking for opportunities to whisper as quietly as I can, "Hey! Wanna go to McDonald's after this?"
Of course, the poses themselves are not conducive to quiet.
Each posture gives me plenty of opportunity for mental dialogue.
While maintaining this one:
I'm thinking, "Is that pubic hair growing that far down my leg?"
And this one…

image from here
…has me worrying that I'm going to fart.
The other day, when I felt my stomach bubbling with the warning of imminent flatus, I clenched my buttcheeks as hard as I could, and thought, "Shouldn't have had dairy before yoga."
And needless to say, several of the poses have me thinking that they could easily be adapted into very cool sexual positions.
As we lay on our matts for our final deep breaths, the instructor challenges us to stay in the room after her departure to meditate.
Is she kidding?
Meditate?
That's like being really quiet, right?
..ummm…I don't think so.
As soon as she exits the room, I spring to my feet, and bolt to the door.
Freedom at last!
Namaste, indeed.